---
Visiting
What to expect when visiting Hopewell.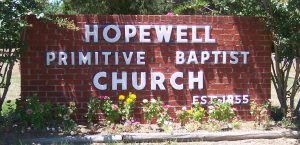 Lord willing, the Lord's Day begins with members gathering for the morning Bible Study, which starts at 9:30 AM.
After the Bible Study, there is a short break and time of greeting one another in the fellowship hall area, where we have coffee brewing and available for your enjoyment.
Once we finish our greeting time we move into the Meeting Room to begin our Worship at 10:30. The time starts off with a Singing Service where psalms, hymns, and spiritual songs are selected as the Lord leads. We follow New Testament patterns of worship which do not include musical instrumentation, so all of our singing is a-cappella in obedience to make a melody in our hearts.
"Speaking to yourselves in psalms and hymns and spiritual songs, singing and making melody in your heart to the Lord "Ephesians 5:19.
We transition to the time of Reading and Preaching the Word of God with a song and prayer.
We begin the Preaching time at 11:00. After the sermon we close with another song and a time of prayer– we usually end around 12:15 PM.
From there the congregation moves into the fellowship hall for a meal and time of fellowship. If you are a new visitor don't worry, you don't need to bring any food and you are welcome to join us. As the day progresses folks leave whenever they are ready, some immediately after eating and others stay around and talk.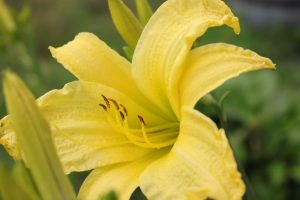 What about families and children? During the worship time, all of the members and their families are gathered together. We do not separate families for church activities as we see no commands or examples of such in the Scriptures. In the Bible, everyone is brought together to hear the Word of God and worship together, an example we follow and cherish as God's people.
For those parents needing to step out of the Meeting Room to take care of a child, we have speakers in the Fellowship Hall so you won't miss anything.
How do people normally dress? There is no set "dress code" to attend our Meetings. However, we do believe that all should dress modestly. Most folks dress casual or "business" casual. Some men wear suits, others do not. Most women wear dresses and some wear head-coverings (which is not a requirement).
When you visit our Church we hope that you see a people who want to worship and serve God in the Holy Spirit and the Word of Truth (John 4:23-24).
We are a people that want to fulfill the Great Commandments:
"30 And thou shalt love the Lord thy God with all thy heart, and with all thy soul, and with all thy mind, and with all thy strength: this is the first commandment. 31 And the second is like, namely this, Thou shalt love thy neighbour as thyself. There is none other commandment greater than these." Mark 12:30–31.
---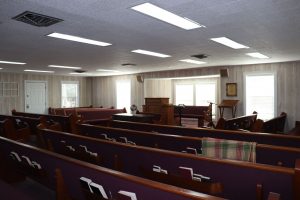 ---